On Monday, October 25, 2010 at 09:42:22 pm a 7.7 earthquake struck the Kepulauan Mentawai region of Indonesia causing a
massive tsunami
. Two of our charter boats were anchored in the bay at
Macaronis Resort
, the
Midas
and the
Freedom III
.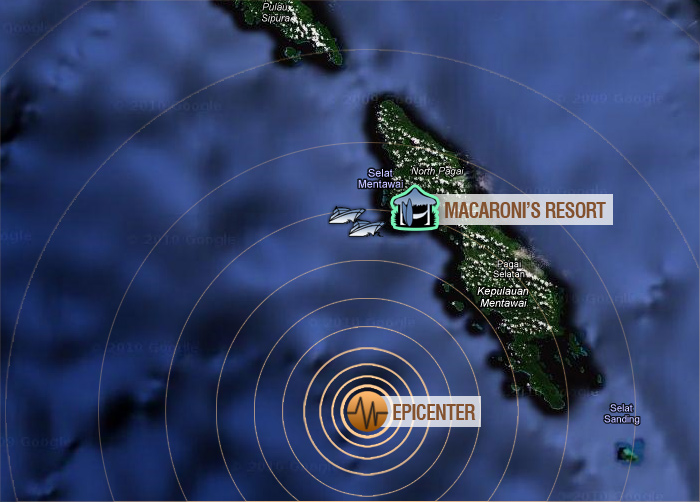 When the 10-foot wave moved into the normally calm and protected waters of the bay anchorage at
Macaronis
, The
Freedom III
was pushed in to the
Midas
, crashing into it and causing significant damage. The impact caused
Midas
to catch fire and eventually explode. A group of Australian surfers abandoned ship, jumping overboard. They were able to make their way on board the
Freedom III
, which had sustained minimal damage and was still operational, and brought everyone to Padang. The video clip below features an audio interview with Rick Hallett, who has been captaining the
Midas
charter boat since the start of the 2009 season, in this clip he describes the events surrounding the tsunami.
Macaronis Resort also sustained significant damage from the tsunami.
The bungalows have been the most damaged parts of the property. When guests felt the earthquake at 09:42:22 pm , they moved quickly to the main building of the resort, and up to the top of the 3-story building. When the tidal wave struck the resort, the wall of water swept through the resorts lower levels. Although the ground level was fairly well gutted, the guests were safe from harm in their lofty perch, and the main structure remained intact. Below is a list of charter vessels and resorts in the area with a status check for each, as reported by our sources:
Boats
Vessel
Status
Location
NUSANTARA
ok
Playground
TENGIRRI
ok
Katiet
KAIMANA
ok
Katiet
NOMAD
ok
Katiet
TRADER 3
ok
Padang
TRADER 4
ok
Padang
MANGALUI
ok
Padang
BARRENJOEY
ok
Padang - going out tonight
PELAGIC
ok
Padang
FREEDOM 3
damaged
Coming back to padang
MIDAS
Burned
All guests ok
HUEY
ok
Padang
QUEST
ok
ARIMBI
ok
Padang
MIKUMBA 1
ok
Nias
MIKUMBA 2
ok
Padang
NUSA DEWATA
seen, but nothing confirmed?
KUDA LAUT
ok
Padang
KING MILLINIUM
ok
bangun has had contact
DEBORA
ok
on the way back to Padang
ADDICTION
ok
SOUTHERN CROSS
ok
MELALUCA
reported to have been seen going north yesterday morning... no direct contact yet...
RESORTS
| Resort | Status |
| --- | --- |
| WAVEPARK | ok |
| KANDUI | ok |
| AINZ & JOHN (TOGAT NUSA RETREAT) | ok |
| MACARONI'S (MACCAS) | ok |
All 15 of our Waterways travelers that were in the area have been accounted for and are safe now, but most have only the clothes on their backs and have lost everything they traveled with, including their passports.  We are working with them to get them home as quickly as possible. We'd like to thank our boat captains, crew, and travelers for there heroic efforts in this devastating event that has taken place. We will keep you posted on any new information we hear. If you have a trip scheduled within the next 30 days to any destination in the Mentawais, please call us to review your travel options.