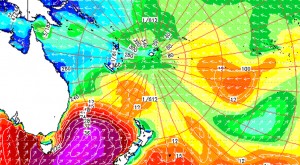 Winter has officially ended in the southern hemisphere, but that doesnâ??t mean the large swells are out of season!  There are several more South West swells expected to pound Fiji in the future forecast. The vicious storm in the Tasman Sea last week sent powerful swells toward
Tavarua
, that arrived in the pre-dawn hours on Monday. This storm created a large South West groundswell which is pounding the region as we speak generating large surf along the South West facing reefs in the Fijian Islands and
Surfline
has called the swell â??
Huge Monday
� with massive surf hitting the 3
rd reef at Cloudbreak
. Australian big wave surfer
Mark Visser
tweeted this Saturday (9/18/2010) about the current swell hitting Fiji:
â??Just landed in Fiji. Waves are a day behind us... This could be a good one :)â?.
There is another SW Swell expected to hit
Thursday Sept. 23rd (10 feet)
and peaking Friday Sept. 24th (15 feet).  This swell should hold through Sunday Sept. 26th and then decreasing for the following week. There will  be
another swell coming in long range forecast
(same direction)  but  no exact dates yet. Stay tuned for updates and be sure to follow WaterWays Surf Adventures on
Twitter
and
Facebook
for up-to-the-minute updates on Global Swell Alerts.
Tavarua
and
Namotu
will be the hottest places to be for big wave surfers and barrel hunters alike over the course of the next couple of swells to pound the Fijian Islands.  As Hawaiian big wave charger Dave Wassell put it in a recent article published on Surfline:
"Go to Fiji!"