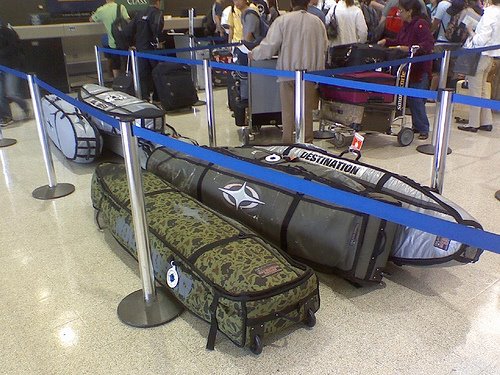 1. 
Travel board bag
(w/ foam fin block if you have glass-on fins) 2.  Waterproof Watch 3.  Dry bag for valuables while on boat trips. 4.  Back pack/ Carry-on (remember to pack a pair of board shorts in this back in case your check-in luggage gets lost). 5.  Camera (Go Pro cam with mount) 6. 
Passport
& Drivers license 7. 
Travel Insurance
(depending on region) 8. 
Surf Wax
(for the specific
water temp
) and wax comb 9.  Surf helmet and/or water specific hat/visor 10.  Reef booties and wetsuit (wetsuit top and or rash guard) 11.  Sunglasses 12.  Boardshorts 13.  Insect repellent 14.  Vaseline (rash prevention and relief) 15. 
Sunscreen
(waterproof) 16.  Ding repair kit (solar kit), stickers and duct tape (quick fix) 17.  Beach towel 18. 
Your Travel Quiver
(shortboard, fish, gun and longboard) 19.  Extra fins (fin key) 20.  Extra leashes (big wave and comp) 21.  Medication (Up to date
vaccinations
) 22.  Music player and Aux cable (iPod, Mp3 Player or iPhone). 23.  Surf racks (soft) for your rental car or taxi