Yes we all know that most surfers donâ??t wear sunscreen on a regular basis, but when it comes to traveling and surfing for 8 hours straight in extreme conditions it becomes one of the most important items to bring!  We have all used those sunscreens that either run into your eyes or gets on the deck of your board, which makes for an unpleasant surf session (especially when it is firing!). Surfers are exposed to the sun so often and for such long periods of time that it increases the risk of skin cancer, which is very common amongst the surf population.  Skin cancer kills more surfers than drowning and is the #1 cause of death in surfers, it is also the most common form of cancer in the United States.  The
Skin Cancer Foundation
recommends SPFs â??sun protection factorâ? of at least 15, which block 93 percent of UVB rays.  Make sure your sun block protects against both UVA/UVB rays and reapply every 2-3 hours.  When the Skin Cancer Foundation asked ASP World Champion
Mick Fanning
how he takes precaution from the sunâ??s rays he stated, "I avoid surfing in the middle of the day, when the sun is most intense, and every time I get out of the water, I reapply sunscreen." Below we have put together a few of the most popular sunscreens to wear while surfing.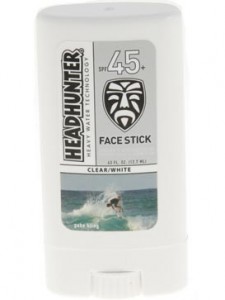 Headhunter Sunscreen has developed a formula called the â??Face Stickâ? which is SPF 45.  The Headhunter Face Stick stays visible on your skin until you wash it off, this is so you know its still there and hasnâ??t washed off on its own in the water.  The Face Stick looks like a mini deodorant stick, and you apply it in much the same way, this makes for a hands free application, which is great before paddling out.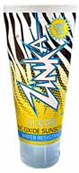 Zinka a â??California Originalâ? sunscreen brand and best known for the colored nosecoat and has been â??paintingâ? the faces of many for over 20 years. Zinka Nosecoat works as a sun block not as "sunscreen". It doesn't rub in like most sunscreens, but goes on opaque to be seen and to afford total protection.  It blocks out both UVA and UVB rays while looking cool on your skin.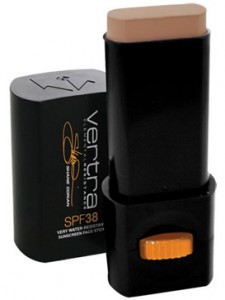 Vertra â??Elemental Resistanceâ? is the newest and one of the most popular surf sunscreen brands on the market.  One of their newest products is Shane Dorianâ??s Signature Tint Face Stick, SPF 38 foundation based.  The Professional Surfer was greatly involved in the R&D process for this product, from in the water testing, to packaging, to his choice of a light, citrus fragrance which reminded him of waxing his board as a grom in Hawaii.
Bull Frog has been around forever and has a formula called the â??Surfer Formulaâ? which lasts up to 8 Hours and Waterproof. UVA/UVB Protection. Sweatproof. Original Amphibious Formula.  This sunscreen is a Gel SPF 36. This surfer-tested gel feels different because it IS different. Goes on clear and easy to provide ultra durable UVA and UVB protection in, on or out of the water.