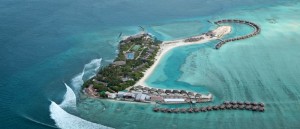 The Maldives
.  Enough Said.  This is one of the most beautiful places in the world with warm clear water, crystal white sand beaches and Pasta Point, the ruler edged, perfect left hander that you used to draw in your notebooks in class.  The only way to access this wave is by staying at
Chaaya Island Dhonveli
, located on the islet of Kanu Huraa of Northern Male Atoll.  This beautiful five-star resort
holds exclusive access to Pasta Point and limits their surfer numbers to 30.  With limited surfer numbers, exclusive access to Pasta Point, and unlimited surf transfers to other waves in the immediate area, it is easy to avoid surfing with large groups. If Pasta Point isn't working or you want to venture to a different surf spot, take the boat transfers included with your stay, to one of the half a dozen breaks in the area.  You can see two other waves across the channel which are only accessible by boat,
Honky's & Sultans
.  You can scope out the scene from the islet, see how many boats are anchored in the channel, and then pounce when you see the boats leave.  It is also the closest resort to these two waves, so if you want to be the first boat out and the first one in the water, they can make it a reality. Why wait until it's too late?!! There are still spaces open in
2011
for the months of 
March, May, June, & October, but spaces are filling up quick.
Book your trip to Chaaya Island Dhonveli and be one of the few to mark the Maldives off of your list... [gallery link="file"]